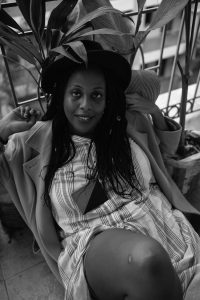 Chi is a singer/songwriter hailing from Tanzania; spurned on by her colourful upbringing, she began writing music at the age of 13 on the piano before moving onto the guitar, expanding her musical horizons and perfecting her signature soulful sound. 
As a teenager, Chi began her performance career busking her raspy vocals to blues and jazzed-up soul numbers with a hint of indie on the streets of Liverpool. In time, the young singer/songwriter earned her way up to BBC radio plays and festivals such as Brouhaha and Liverpool Music Week. 
Back in her home country, Chi has become a celebrated voice and has even opened for international artists including Bucie and Black Motion. She has established herself as an integral part of the creative scene in Tanzania by curating her own music night, "Chi and Friends," extending her platform and audience to underground artists nationwide. The singer/songwriter also headlines popular gig spots such as Red Monkey's Crazy Mondays (Zanzibar) and Slow Sessions (DSM).
Constantly evolving, nothing fulfils Chi more than the energy and intimacy of live performance. Chi treasures this and her wanderlust, stating
"no matter where I tread in life, a song is bound to come out"
To keep up to date further with all Chi's music and events please subscribe to her Facebook Page.
You can also Contact Chi